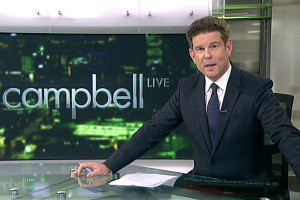 Today will be tough. There will be laughter. There will be cake. Campbell Live is famous for cake. We are the only people in the world who lose weight on Christmas holidays. But behind it all, I don't think everyone has quite confronted the reality that this is indeed the last programme we will make together as a team. Only last week the news was delivered that the show would not go on. Originally, the intention was for everything to tick along for another six-to-eight weeks while a replacement was readied. But it soon became evident that wasn't going to work. The simple reason being these people, who I am privileged to call my colleagues, are totally incapable of making anything in a half-hearted fashion.
So to all of you who have watched over Campbell Live's ten year span – but particularly in the last month of so – thank you. You have made a huge difference to us on these difficult days. Being under review was grueling. It meant we essentially became an independent republic within Mediaworks smack bang in the middle of prime time. Every morning the ratings would come out. To us nothing short of being number one was good enough and there we were, day-after-day. On these mornings, there would be a brief celebration, hugs all round and then the team would gather themselves again to once more try to 'knock it out of the park.' We beat X Factor one night by 100,000 viewers and came within two thousand of out-rating the series final, once the numbers watching on the +1 channel were taken into account. Dan Parker produced a spell binding story at the gates of Gloriavale on Anzac Day – shot by Billy Weepu – which attracted a huge audience of 419,000 viewers. Hundreds marched on TV3 to oppose us being shut down. It was surreal. TV- this medium, that's supposed to be disposable – that many are often so cynical about could get people to do that. This great wave of love lapped up onto the steps of Flower St. We went out on that afternoon to dip our feet in it – and returned to work warmed by the knowledge it was there. None of us will forget that
To JC – you're the best. The most complete broadcaster the country has produced; the best interviewer, the best storyteller, the best presenter, the best journalist on TV. No one knows that five minutes before the live show from the flooded Flockton Basin in Christchurch last year, he was in a cul-de-sac still negotiating the way to the location. Just moments to airtime the ear piece went in, the mic was picked up, before the most flawless half hour of television was delivered with no autocue, standing knee deep in water. That is the broadcaster's art, to make it all look effortless so everyone else can cleanly and clearly articulate their message and for that message to be heard by those who need to hear it. Supreme technical skill aside, it is John Campbell's values that are woven into the programme that the audience is saying they will miss most when the final Ka Kite Ano is delivered tonight.
There are two types of television. There's the one that panders to the perceived prejudices of the audience. This is easy to make, instantly creating headlines and galvanizing an audience that will switch on just to hear its view of the world parroted back. The weakness of operating this way will only be obvious to those it leaves out in the cold. The much tougher path is to challenge viewers to question their assumptions and to challenge the powerful, after all isn't that what the job of journalism is supposed to be about? So thank you, John, for early in your career committing to showing the country in all of its shades of grey, but still with great verve and optimism for the future.
One of the things everyone knows about JC is that he is unfailingly polite; polite sometimes to the point of parody. It might seem like something small, but it is actually the outward expression of something greater, and the message I will be taking from my short time working on the show: kindness has power. It's not money, it's not a clenched fist, it's not an earthquake or a force of nature. But it has its own quiet influence, that if applied consistently day-upon-day can do great things. If we allow ourselves to see our fate as being connected to that of the person next to us we do not just make our community better, we make ourselves better. I acknowledge these are strange words to be writing about a TV star and a show made by a commercial broadcaster in a dog-eat-dog world. But to put it another way, compassion, intelligence and thoughtfulness is where the gap in the market is.
When put like that today feels more and more like the start of something, it really does….