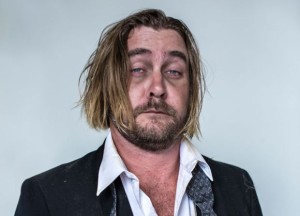 I think it's important to make two disclaimers before I go any further with this review. I don't know jack about theatre. This was rammed home for me when at the intermission of Success I stood with some folk who *do* know theatre and listened to their analysis of what they'd seen and it was so much more thoughtful and in-depth than anything I'd taken from it.
And secondly, I'm friends with Jeremy Elwood.
So with those considerations in mind, this is my take on Success, by Stephen Sinclair, who Fairfax describes as one of New Zealand's most successful playwrights (tell that to Roger Hall and his legion of ex Shortland Street actresses looking bemused on his plays' posters).
Success is the story of what success means to different people, and what success looks like and what it looks like to lose. It's told through the lens of stand-up comedy, which I'm not certain is the best way of looking at success because even the most successful comics I've known have largely been narcissistic, vain and deeply insecure assholes (some excluded of course).
We have three primary characters, Jules, Carl and Derek, who were stand-up buddies from yesteryear. They seemed to have gigged a lot together including one particularly infamous tour of the West Coast which plays an emotional pivot throughout the play.
Jeremy Elwood plays Carl, the comic who had it all and lost it because of something he may or may not have done. I don't want to spoil exactly what that was, but it's a bold choice of catalyst and one that made me very nervous coming into this play (more on this later).
He's returning to New Zealand after a long absence. He's here to perform sell-out shows at $80 a pop after storming the United States. He's the success story of the three. And the failure. He comes home to Derek and Jules (John Glass and Stephen Papps respectively), who themselves are in a very different place. Jules is a teacher, who dabbles in stand-up and is perpetually grumpy with his place in the world. Derek is the "Mr Nice-Guy" of the group; jobless, but content. Also stuck in a relationship he doesn't really want to be in but seems to think the path of least resistance is to stick at it, rather than confront 'Dorita'.
The success gap between Derek and Jules versus Carl is what sets off a series of emotional confrontations that vacillate between warm-hearted banter and out-and-out hostility that has been brewing for years.
The set is confined to the lounge of Derek and Jules' house, however throughout the play each actor takes a turn in performing a stand-up routine (which all press materials will tell you was written by each actor in the voice of their character). It's an interesting device, to break-up the play with stand-up routines, but I'm not sure it served any purpose other than to justify the lens through which we're being asked to view this story.
Of the actors, Elwood and Glass stood out, which is perhaps interesting as both are more known as comics, whereas Papps is the 'actor' of the three, however he had trouble with some of his lines (opening night blues I suspect) and didn't quite encompass his character as well as the others. Elwood as the self-indulgent Carl was particularly strong. There was a constant sense of rage and self-loathing just below the surface, even when he wasn't overtly raging; while Glass as Derek wholly owned the character of Mr Nice Guy until his stand-up routine when we got to see the first, and only, glimpse of his level of discontent with his world.
The catalyst I spoke of earlier, the explosive event that triggers the story is a tricky one. Because in most instances it would be the lynch-pin upon which the rest of the story would hinge. However in Success it's done as a sort of incidental event. It's not incidental because of the magnitude of it. The spectre of it looms over the whole production, however it's settled satisfactorily at the end (though if you start thinking about an unreliable narrator you could find yourself twisted up in knots).
I think the undertone of the film is about finding satisfaction with where you're at, and the invisible performer in the whole story seems to be age. Whether it's physical degradation, confronting the appropriate age of someone you should be having sex with or just accepting that you're not the young man you once were, aging seems to be the unspoken terror.
The play is very good. It's very polished, the performances are all excellent and the delicate subject matter is handled with more aplomb than I thought it would be. It's hilarious and distressing when it's supposed to be, and the setting, lighting and foley were all excellent. I think it could have used a little bit more direction to really draw more out of the characters as sometimes the dialogue slipped into the realm of the caricature, but this was not often.
I think a target market would be slightly older than me, to fully empathise with the mid-life crisis like scenario that's facing the characters but I still enjoyed it immensely. And it was two hours long. When I found this out I swore, but it didn't feel like two hours so don't worry too much about that.
Every night except Sunday/Monday until June 20.
Full price: $20.00
Concession: $15.00
Groups 6+: $14.00