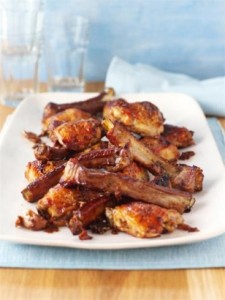 Chicken 'n' Ribs, like Guns 'n' Roses but with chicken and ribs instead of guns and roses.
Maple Chicken 'n' Ribs
Original recipe by Nigella Lawson
Found in: Nigella Express
Sourcing ingredients: Easy easy easy (provided you can get to your local supermarket)
Total preparation and cooking time: Making the marinade – about 10 minutes. Cooking the chicken 'n' ribs – about 45 minutes in a full forced fan oven
Serves: 4 (3 fully grown life-sized men and 1 fully grown life-sized woman) – although, I will be honest – I used four fewer ribs and chicken thighs, so maybe if I had followed instructions, it would serve six people like Nigella says
Difficulty: This was my first time ever cooking ribs. Spoiler alert: nailed it.
Recently we had the pleasure of entertaining two friends for dinner whose respective partners had gone on holiday without them (selfish). It was a night of geeky boardgames, conversations about technology and inappropriate snapchats involving oversized male genatalia crudely drawn atop mundane household objects. Yes we are grown ups. Stop it with your judging.
Nigella's Maple Chicken 'n' Ribs was the perfect meal to accompany our night of men being men. Throw in some crispy roast potatoes and a few greens and it's a full dinner right there. Although I must be clear when I say greens, I mean carrots and courgettes fried up with bacon. After all, this wasn't the time for healthy eating, this was the time for delicious.
I'm not going to lie. I tripped at the first hurdle. Nigella says to marinade the meat in the fridge overnight or for two days. I got up super early on the morning I was making them and marinated them in the fridge just for the day. I don't think it altered the flavour, but I'll have to make this again, just to be sure.
It's important not to use a dish that's too big to house your meat (heh). When you pour your liquids in, you want them to reach as much of the meat as possible (heh heh). If your dish is too big, you won't get enough coverage.
I broke the cinnamon stick in half and put one at each end of the dish and scattered the garlic cloves around. I mixed the maple syrup and the apple juice together before I poured it over the meat.
I covered the dish in tinfoil and put it in the fridge for the day. I've got a picture of the dish covered in tinfoil, but I'm going to go ahead and assume you all know how covering a dish works, so I'm not going to publish it. I'm just going to write about it and you can use your imagination.
When the time arrived to cook the chicken and ribs (I'm sorry Nigella, I hate shortening "and" to "n"; it's already such a short word, it just seems like lazy word craft to me) (note, do not confuse word craft with warcraft. One is the art of crafting words and the other is a computer game that Husband won't let me play because he fears he will lose me to the virtual world altogether). I transferred the meat to an oven dish that I had lined with cooking paper, then poured the remaining liquid over.
I heated the oven to 200°C and in went the meat. Nigella says to cook at this temperature for "about an hour and a quarter, by which time everything should be sticky and glossed conker-brown". After about 45 minutes I was convinced everything was going to start burning, so I made a judgement call and took it out.
All I had to do was pile up the chicken and ribs onto a dish and take a picture.
The end result:
This was everything I thought it was going to be – positively indulgent. The meat was sticky (stop it) and tender; it practically fell off the bone (seriously, grow up). You could really taste the tartness of the apple juice, while the maple syrup gave it a slightly sweet flavour. Here is the thing I love about Nigella's meals – once you've prepared the ingredients (which usually takes minimal time), you just leave the meal to cook itself. There is no slaving over a stovetop for hours. Little fuss, maximum pleasure. Get it? Maximum pleasure! It's a sex joke.
If you like something you've read on The Ruminator, please consider making a donation via Givealittle