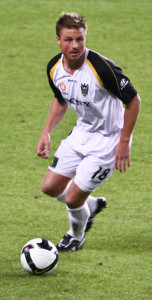 Our history is littered with them: 1 February 1981, 23 July 1994, 24 June 1995… days when despite our inimitable spirit, never-say-die attitude, fair-play mentality and ability to string together clichés, we were struck down by the forces of evil (played respectively, in this case, by Trevor Chappell, Johan Le Roux, and "Suzie".
Of course, us Kiwis are squeaky clean when it comes to foul play. We've had fair play drilled into us since the days of KiwiSport, where everyone participated, no-one won, and player of the match certificates were apportioned by rota. So it seems unfair that our sporting heroes are so often on the wrong end of foul play. It's like we're a magnet for villains. Perhaps, somehow, our inherent goodness attracts evil, like a sporting Yin searching for a Yang. A Mystic searching for a Skeksi. An evil twin turning to its sibling in the womb with a hungry look in its eye…
I've completely supported this assumption. And then Ben Sigmund shattered my illusions.
For those of you who haven't been paying attention  Ben Sigmund is an All White stalwart, serving our country 29 times.  Siggy broke my dreams with a horrendously stupid piece of thuggery in a recent match with UAE. He kicked his Emirati opposite, and not feeling that was enough, proceeded to jump (two-footed) on to his knee. I was confused, was he playing for the other team? New Zealanders don't do that kind of thing. We're the good guys. Right?
Or are we just hypocrites?
I've always suspected it, but never admitted it: when I watch New Zealand play sport, I curse the opposition for targeting my heroes… And I downplay Kiwi misdeeds. I freely complain about others, but tend to give our team a free ride.
Sigmund's behaviour got me thinking: can I think of any other situations where Kiwi sportspeople have behaved in contradiction with my rose tinted view?
It didn't take long for the rogue's gallery to fill up: Richard Loe and his predilection for eye-gouging and nose breaking, Rory Fallon's flailing elbows (he's a footballer too), Richie McCaw's reputation for living life just over the edge, the Umaga/Mealamu tag team on Irish talisman Brian O'Driscoll… It's a longer list than I can generate for misdeeds by others.
So was I wrong, are we actually just as bad as others? I'm still not convinced, but I do know the thought of it drives us crazy. We tend to respond one of two ways:
We lose our minds, ensuring that everyone knows how "non-kiwi" that kind of behaviour is. In Siggy's case, we took to Facebook and Twitter to (incorrectly) claim that it was "the worst tackle in the world ever" and that "Ben Sigmund must never be able to represent us ever again."
We deny any wrongdoing, on the basis that a New Zealand representative would never behave in such an unsavoury manner.
It's great that we have such faith in our sporting stars, but perhaps it would be a little grown up to drop the tantrums and accept that among the thousands of people who represent New Zealand, some of them might be a little more susceptible to the red mist. After all, it's not as if you like every kiwi you meet is it? And if your experience of sport is anything like mine, you will have played against a shedload of (what appear to be) awful human beings. Here's the reality, we're probably no fairer than most other countries – except for South Africa. And Australia (they're cheats).
If you like something you've read on The Ruminator, please consider making a donation via Givealittle