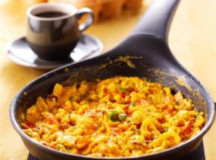 Breakfast of champions
Original recipe by Nigella Lawson
Found in: Nigella Express

Sourcing ingredients: Easy – if you live near a supermarket, you are well covered
Total preparation and cooking time: 20 minutes
Serves: 2 (comfortably, enough to fill both me and Husband)
Difficulty: Easy
Ole!
The Domestic Goddess' version of Mexican Scrambled Eggs takes a little bit of prep, but once you get cooking you had better have everything else ready, because they'll be done before you can say Para bailar La Bamba!*
One of the best things about making scrambled eggs, is how quick and easy it is. The Mexican version is no different… Well, it's obviously a bit different, this one doesn't use milk!
The first thing Nigella says to do is to heat your oil in a heavy based pan. I am fancy and have an induction stovetop, so I set the temperature to 7.5 (for your own, get the heat between medium and hot – too hot and the tortillas will burn, too cold and the oil will just soak into the tortillas instead of frying them – gross).
Preparing the tortillas is easy. I rolled them into a cylinder and snipped into strips straight into the hot oil. Ms L says to fry them for a few minutes, but I found it took closer to five. I kept them moving with a wooden spoon pretty much the whole time.
When I took them out, they looked like this:
Next I threw in the spring onion, tomato and green chilli. I found I had to add a tiny bit more oil to the pan, because those greedy tortillas had taken most of it. I should also mention here that while I love spice, my mouth doesn't, so I was a bit apprehensive about adding an entire chilli into the mix. I didn't have to worry though, the end result is not spicy at all. Not even a little bit.
I stirred these for about a minute until they started to brown just a little. I had to turn the temperature down so things didn't start to burn. Then I returned the fried tortillas, mixed them through the vegetables and put in a pinch of salt (measured very carefully by Husband, who doesn't like any more salt than is called for).
When I added the eggs, I made sure the temperature was around medium (that's setting 5, for induction-using readers). I kept everything moving around the pan so the eggs didn't stick to the bottom. I hate it when things stick to the bottom.
After a very quick two minutes the eggs were cooked through and Mexican-scrambled-eggs a-la-Kim was finished and ready to eat. But not before I could show you how the finished product stacked up against Nigella's, of course.
The end result: 
I can see why Nigella says these are a good hangover cure. No burger required. They are tasty and rich, but possibly a little bland. Nigella suggests serving some refried beans alongside. I added both salt and pepper to the finished product, and Husband added jalapeno sauce. We also both added crumbled up crispy bacon, because bacon.
I would make these again, but next time I would consider adding a red chilli and maybe even some capsicum and a bit of red onion. Oooh and maybe even some salsa if I have any leftover in the fridge. Also, the bacon. Definitely the bacon.
 *Mexican reference.