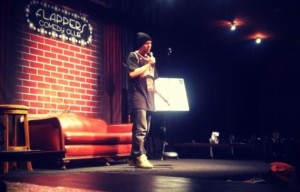 That's the sound of me laughing my head off.
I've done some reviews of the comedy festival this year. Quite a number in fact. Some of them have been good, some have been less good, some have been bad. Really there have only been two bad ones so far. And both of them were because thematically they offended me.
I was talking with a friend of mine who does standup comedy and he objected to my reviewing of Brendhan and Reginald because he thought I was trying to dictate what comedians could and couldn't make jokes about. So I've been mulling over this for the last couple of days. Is there subject matter you cannot make jokes about?
No. I think I may have addressed this in an earlier post. You can make jokes about anything you like. You just have to be cognisant of your audience.
When you perform standup comedy you are taking on a position of responsibility. The comedian is in an empowered position that regular folk do not experience. He/she is standing on a stage with a microphone and talking to people who have paid to hear them talk. Their words thus take on more importance than a regular conversation's. This doesn't mean that the comedian has be clean, or not offensive or shy away from nasty things but it does mean that the comedian should use his or her power responsibly.
Because, if they don't, then people won't laugh.
That's right. The comedian's job is to be funny. FUNNY. And having this power means we expect them to be funny. And if they're not funny then we have the right to react to them however we bloody well want. And this can include being offended. Because if you don't make a rape joke funny, then chances are it's going to be offensive. This is your paradigm comedians. Work within it.
So how do you make a rape joke funny? Well I'm not a comedy expert by a long shot, however I could give you some tips. First off, don't make the punchline revictimising the victim. The major issue I had with Reginald D Hunter's rape material was he was isolating the victim of rape, and asking us to laugh at her predicament. Not cool.
Had Reginald done a piece about the thought process behind the rapist, that could have been a different gag. Because there we're not being asked to laugh at the victim.
"Oh but Dave" comedians might say, "if people were so sensitive they shouldn't go to comedy clubs."
Actually turn that on its head. Why are YOU being so sensitive to people's reactions? This is what comedy is. People reacting emotionally to your words. Your desired outcome is laughter but you won't always get it. And so people's right to be offended is just as sacrosanct as your right to be offensive.
Another comedian said that it's unfair that I criticised misogynist jokes because he hears women comedians ripping into men all the time. And so I'm being SEXIST by saying that not all genders are equal. And you know what? Not all genders are equal. Men have so much more power than women, we are in such a privileged position that it's embarrassing. I actively try to undermine my own powerbase.
So when a man makes jokes about women that are nasty or misogynistic it is far worse than when a woman makes a joke in the reverse.
Just like when you're in the changing rooms of your rugby club, you may call your mates fuckwits or somesuch, but if you walked into a retirement home you wouldn't call them fuckwits. Because the power dynamic has shifted. The power dynamic is far more equal in a rugby changing room, and then less so in a retirement home, so you adapt. That's the same with jokes. If your joke is able to make a joke at the expense of the misogyny, then great! If your joke is that women are bitches, that's not great.
And then my final point is one that I've been thinking of a lot. Why are there so few women voices in comedy? It's not because women are shit at comedy. Maybe it's because comedy doesn't really seem like a safe space for women. If I was a woman considering doing standup comedy and I sat in Reginald D Hunter's show, or Brendhan Lovegrove's show and heard how standup comics view women, I'd think "fuck this. I'm not going into this bearpit". And men, that's our fault. So hey, if you're going to be a male standup comic, don't be an asshole.