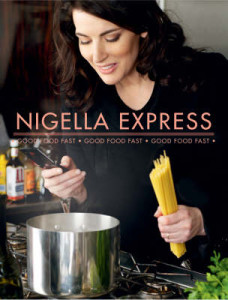 Nigella Lawson. What a fox. Who cooks like that and looks as good as she does at 53?
Hopefully me, and I think I've found the secret. All I need to do is cook the way she does and the rest will take care of itself. It's science.
The Domestic Goddess has a number of amazing books that I cannot recommend highly enough, but for the purposes of this blog (and a little thing called copyright infringement), I'm going to stick to the recipes that Nigella has shared online. As far as I can see, it's a win/win/win situation. Nigella gets free promotion, you get free information and I get a free anti-aging routine.
At the time of writing, Nigella Lawson has 349 online recipes. I'm going to recreate all of them. Even the ones that look horrible (I'm sorry Nigella, but not everyone loves mussels).
I will be as true to the recipes as I can, although being an amateur chef (chefette?), there is bound to be some disparities.
I'll tell you how easy it is to get the ingredients, how long the recipe takes from start to finish and how delicious or awful it tastes.
People trust the recommendations of people they know. So why would you listen to my opinions?
You don't know me. I thought you'd think that, so I got my husband to interview me. So you can know me. And listen to my opinions. And trust my recommendations.
Who are you?
My name is Kim.
Where do you live?
I live in Wellington, the capital city of New Zealand. It's a pretty sweet place, and my family live here, so that makes me happy.
What is your favourite food?
I wish I could say something really fancy here, so you would think "Oh, how sophisticated her palate must be". But I'm not going to lie. My absolute favourite give-them-to-me-now-or-so-help-me-I-will-break-your-face food, is fries. It doesn't matter what kind of fry; big ones, little ones, thick ones, french ones, I love them all.
What do you like to do while cooking?
Aside from cook while cooking? Drink.
Who do you think you are? Nigella?
No. I just want to look like her when I'm older. She's got about 20 years on me, so I figure if I start cooking her recipes now, it's pretty much a given that things will work out the same for me.
Are you for real?
Yes.

*Disclaimer: My friends and family will be employed to eat the things that I don't want to (mussels et al), because this is my blog and I make the rules (and the food).