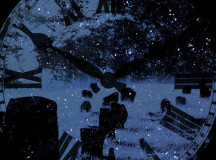 It's difficult to succinctly describe what it is that Uther Dean does.

'Theatre practitioner' comes close, but is also so vague as to convey very little information. We're reduced, therefore, to listing things: playwright, director, actor, lighting designer, technical operator, editor, critic. Suffice to say that he seems more or less ubiquitous in Wellington theatre these days; I don't think there's many who would argue that this is a bad thing.
Dean's latest project is The Witching Hours, a series of audio dramas recorded live at BATS Theatre for later distribution via the vast network of tubes that makes up the World Wide Web. Each live show is comprised of two episodes, and each episode is a self-contained tale of the supernatural, science fictional or otherwise chilling. Dean writes, directs and provides sound effects, while each episode is narrated by Jonny Potts, who also turns his hand to supporting roles as required – Potts' confident and authoritative delivery evokes radio presenters from times gone by, serving as the ideal introduction for what is, in effect, a series of radio plays.
There's a wonderful duality to watching a live recording of an audio production; it's like listening to a finished product while simultaneously watching the "making of" documentary. The silent reactions of the performers and the playwright to the audience reception and to each other provide an extra layer to the scripted dialogue, and it's almost a shame that the 'home' audience has to miss it.
Longtime Dean collaborators Hannah Banks and Paul Waggott filled out the cast for the Friday night show (on other nights they were joined by Sam Hallahan and Francesca Emms). Their familiar chemistry seemed particularly appropriate for the first episode that night, Men are from Phobos, Women are from Deimos, a tale of galactic exploration with distant echoes of the pair's last co-starring vehicle (also written and directed by Dean) A Play About Space. This was followed up by Fun and Games – set somewhat closer to home, but with no less sinister a denouement.
Describing the episodes even further would somewhat spoil the fun – suffice to say that on the basis of Friday's show you can expect the recorded version of The Witching Hours to be funny and thrilling in equal measure; 6 sharply written and solidly performed slices of dark comedy. Just remember that in the true tradition of such things NOTHING IS WHAT IT SEEMS and you'll do fine. The first episode is due to be available on Wednesday 6 November 2013, with subsequent editions following weekly after that.
The Witching Hours
BATS Theatre
24, 25 & 26 October 2013
www.thewitchinghours.com
If you want to support the Ruminator, please consider making a donation via Givealittle.