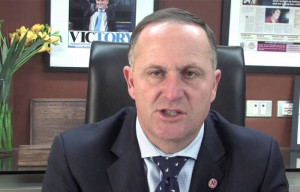 "One option is the Government says: 'Thanks very much, it's been a lot of fun. If you don't want to take the offer, that's where it's at'."
That isn't a low-level Civil Servant saying that. The person responsible for that quote is our Prime Minister. The Rt Honourable John Key. And he was saying it to people who had lost their homes in the Canterbury Earthquakes. After those people had won a judicial review to say that the payment offer on their land the Government had made was unfair. Because John Key don't care for no court of law.
Of course in this day and age when you can tell the political success or failure of a statement in an instant, the Prime Minister was forced to apologise. So he did. But in a really half-assed way.
"Sorry" he said "if any offence was caused". Ah. This makes it the recipient's fault. Not the communicator. YOU took offence, so that's on you. He then went on to say that his comments needed to be taken in context.
"Look, that's the expression people use when there's a breakdown in things, so it's got to be seen in the context of that sort of situation".
I'm sure that that's exactly what those AgResearch execs had to say when they found out they'd botched (ba boom) the test into the botulism and Fonterra was pretty mad.
"Thanks very much, it's been a lot of fun"
And Fonterra would have laughed and laughed, because that's the expression people use when there's a breakdown in things and your company's reputation is sullied in its biggest market.
I've broken my policy of trying to be politically neutral on this blog, because I'm worried. And it's not just John Key I'm worried about, it's a lot of other National Ministers…there seems to be something wrong . During the Privileges Committee investigation into the treatment of Andrea Vance, Gerry mused that journalists shouldn't expect a right to privacy if they were going to publicise other people's private details. Fair's fair and all. Which is hilarious. Because last time I checked, this Government wasn't all that flash at protecting people's privacy when they dared criticise their policies (cough Paula Bennett cough).
Then also last week we were told that the public would have no say in the granting of resource consents for off-shore oil drilling. I'm not actually entirely against this. Because they're off-shore I'm not sure what value the public would add to the discussion, but earlier this year we had our right to protest the ships taken away from us. Because fuck the public right? They need to be TOLD what's good for them.
It's an alarming trend with this Government. They propose a law, a bunch of experts come out and say "that's a bad law Government and you should feel bad" then they ram it through anyway.
I'm not saying that Labour's shit don't stink. Because it does. Terribly. But this post is about my concern for National. I'm worried guys. Are you ok? Because it seems like you just don't care any more. It seems like you're just there in power and being powerful and lording it over the powerless. What's up with that? You guys are our Government. I've never voted for you, but I've defended you in the past because I've always maintained that at least you'd believe you were doing the right thing for the country. But now it seems like you just don't give a shit. And we need you to give a shit.
It's like some kind of narcissism has taken hold and this Government just thinks they can do whatever the hell they want to the public and it doesn't matter.
Prediction: in two months time, John Key won't even be wearing pants. He'll just be all "hey, I'm John Key, I don't need no pants. If I'm gonna shit on you, I don't have time to unbuckle."
So what's going on guys? Do you need a hug? Because I'll come give you a hug. I'll even stroke your cheek if that will make you feel better. Just stop being jerks.
If you like something you've read on The Ruminator, please consider making a donation via Givealittle