The Rev is a band I have wanted to see for, I dunno, 10 years now? I discovered them on the Guitar Hero II soundtrack with Psychobilly Freakout. It's a very hard song to play and one of the only ones I never got 5 stars on expert.
I reviewed their latest album (originally titled Rev) a couple of years ago. This all came about because I emailed the Reverend's agent and asked if they'd be in places in Europe where I would be (I don't know why more bands don't work their schedules around where I'm going to be). They weren't, but the label did send me the CD(!) to review and some merch. Nice one Victory Records.
So imagine my delight when a month or two back, my wife and I were walking through Cuba Mall and we saw a poster advertising the Reverend Horton Heat playing at Bodega. I leapt back to my keyboard and emailed Victory Records again who were very happy to hook me up with a couple of review tickets.
I was so fucking pumped. Other than Muse (shut up) the Rev is the only other band I really really really really wanted to see live. And then I got to see them live. And they smashed my expectations right in my fat face.
The Rev has been around for 30 odd years now and yet despite entering their 4th decade as a unit they are still manic, insane and exciting. People had warned me I was in for a treat from their live show and they were right.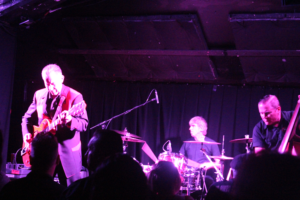 The band call themselves "country-fed punkabilly" and it comes out of the heart of Texas. It's the punk component that really drives a Rev show. The energy is incredible, and it's made to look so effortless. It makes me sick. Jim Heath (the titular Rev) is a phenomenon on guitar. Jimbo Wallace on the double bass and Scott Churilla on the drums look like they're hardly trying and yet the sound they produce is magical and fun.
This musical assault is topped off with the growling bassy voice of the Rev as he does a sort of rapid-fire crooning of his songs that so often poke fun at their hillbilly roots. There's the obligatory slow jams that occur throughout the show but the Rev engages in some banter with the crowd to explain them – he knows he might lose some of the audience with it but there's a charming backstory behind their slower songs.
Some of their more well known songs were left out of the gig, but that didn't matter because there are no shit Reverend Horton Heat songs, and there sure aren't shit live ones. The band is just an explosive ball of psychobilly insanity. They had the crowd in the palms of their hands and never loosened their grip.
In 2000 at Bodega, the White Stripes played, just before they got huge. The number of people who claim they were at that gig now far exceeds the bar's capacity. It's gone down as one of those "I wish I was there" legendary gigs. Last night, again at Bodega we got to see another.